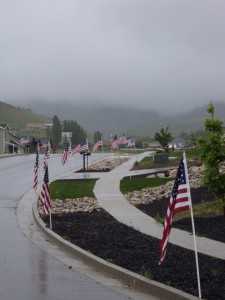 When I retired from the military in 2010 I left many things behind. Some of them I miss a great deal. Superb friends, interesting, challenging assignments, and most of all the privilege of serving with such committed men and women.
There are things I don't miss. Minor things like PT tests and paperwork, but some major things as well. My last day wearing the uniform was my last day in command, a privilege I had six times. But I have to say that what I felt most on that bittersweet day was relief. Relief that I was no longer responsible for the lives of other people's sons and daughters. Of course that responsibility is inherent in command, but trust me, you don't have to witness the pain a military family endures when they lose their loved one very many times before it becomes a permanent part of your psyche. Perhaps that's the way it should be.
So we settled in our quiet little town, never expecting to be close to this kind of pain and loss again, immune from it now that we are away from the military, as if this is something that only happens within the military community. The reality is just the opposite. There are always real families in real towns, facing trauma the rest of us cannot fathom.
U.S. Marine Sergeant Ward M. (Mark) Johnson, IV, was lost earlier this month in a helicopter crash while conducting relief operations in Nepal. His mother and step-father, Eva and Jason Curtis, are neighbors and friends of ours. In fact, my wife has travelled to San Diego twice with Eva to visit Mark and his family, both when he was home and to visit his wife Haley and their two sons while he was deployed.
Jason tells the story of a conversation he had with Mark, who at the time was pending a third combat tour to Afghanistan. Jason, himself a Navy veteran, expressed concern that Mark had done his share of combat tours. Mark did not see it that way. He said, "It's what I do." It was inconceivable to him that he would not deploy with his unit if they went to war again. As it turned out, they deployed to Japan and the Philippines instead, and he was diverted at the very end of a six-month deployment to head to Nepal after the earthquake there.
What kind of men and women are these? They rarely say, "I was just doing my duty." They more often say, "I was just doing my job." But they mean duty, even if the word is used less commonly these days. They will do remarkable things in the most difficult of circumstances. Pull the bodies of comrades back to friendly lines under fire, fight hand to hand if they have to. Fly into the most remote of mountain villages over unforgiving terrain to deliver relief supplies. I have known men and women like Mark Johnson. They do WAY more than just a job.
Now rows of American flags line the streets leading to the Curtis home, the gray skies of a wet spring adding gravitas to the silent tribute, gently waving symbols of sacrifice and courage. Too close to home.